Active biology
biology worksheets for teachers
Combining my skills in writing and graphic design, along with my thorough content knowledge in biology, I have created student worksheets that teachers can print and photocopy for classroom use.
These highly professional worksheets can be used as classwork, revision, homework, assignments or even tests. They are designed to engage students, help them to understand important concepts, and revise content. They can also save teachers hours in lesson preparation time.
Senior Biology Worksheets (Parts 1 & 2) are now available to order. Aimed at students in years 11-12/13, they are adaptable to senior biology courses in all states of Australia (including HSC, QCE, SACE, TCE, VCE and WACE) as well as NCEA in New Zealand. All the important topics are covered, such as cells, movement across the plasma membrane, photosynthesis & cellular respiration, enzymes, plant transport systems, body systems, homeostasis, genetics, stem cells, natural selection & evolution, ecosystems, biodiversity, disease & immunity, DNA manipulation, cloning, and many more.

Each set consists of 80+ B&W worksheets, as well as highly detailed answer sheets (no need to research or fact-check here - it's all been done for you) with all diagrams in glorious colour that look great on the big screen!
Title: Active Biology (Senior Biology Worksheets, part 1)
Number of pages: 172
Format: PDF file
Price: $42.00 AUD

To order, click on the 'BUY NOW' button:
(click on image to view sample pages)
Title: Active Biology (Senior Biology Worksheets, part 2)
Number of pages: 164
Format: PDF file
Price: $38.00 AUD
(click on image to view sample pages)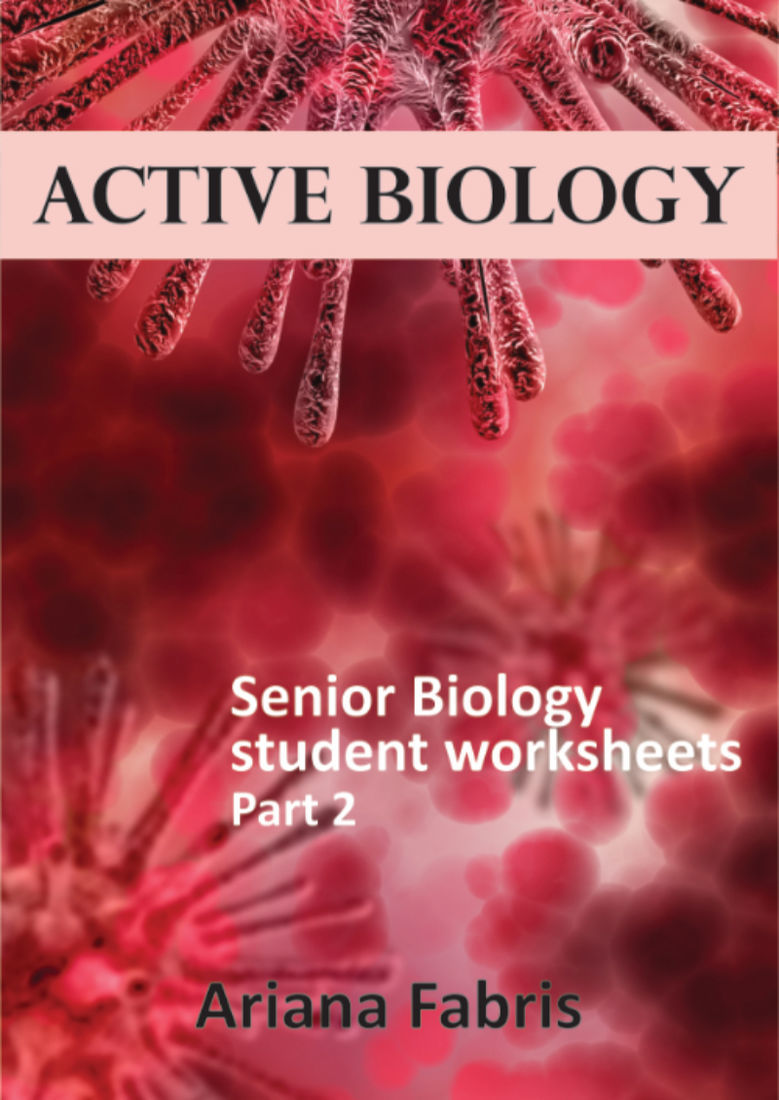 Biology Unravelled
(for
vCE biology)
**Great News: 'Biology Unravelled' is now available as an Online e-book for just

$9.99!

To order, click on the blue 'BUY NOW' button:
"

This is a great resource. My daughter used the printed version last year and loved it. She said she found it really helpful, used it more than the textbook and doesn't believe she would've done as well as she did if she didn't use it.

"

- Angie B.F. (via Facebook)
(View sample pages)
For those who prefer a traditional hard copy...
**Special Offer: Order 5 or more copies of 'biology Unravelled' and get fREE delivery!
Biology Unravelled has helped countless students to understand some of the more difficult concepts in Units 3 & 4 Biology, as well as assisting them in their exam preparation with its comprehensive exam study plan.
Biology Unravelled contains comprehensive summary notes and exam study plan for students
of VCE Biology Units 3 & 4
Title: Biology Unravelled
Author: Ariana Fabris
Publisher: Burgundy Press
Number of pages: 170
Format: Paperback
Price: $39:95 (includes postage)
Delivery Time: up to 14 days
Pay by PayPal or card:
* For other payment options please scroll down.
"I really love the content and the ease of using it, step by step. Such a great help for a learner like me."
- Vishal, Kingsbury, Victoria.
"This book has been amazing in cementing some concepts for me too (not just students)! It's fantastic!"
- Emma, Ormond, Victoria.
"I'll definitely be recommending this to my students."
- Naomi Murdoch, Year 12 Biology teacher, Melbourne.
"A very clear summary and easy for students to understand. Well done, Ariana!"
- Debbi, Sale, Victoria.
other payment options (hard copy only)
1. Pay by cheque: download and print this form.
2. Pay by **bank transfer: click here for details.
**please provide name and address.
3. Pay by Purchase Order (school orders only): click here for details.
active Science - science and biology worksheets for teachers